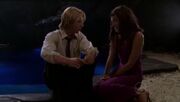 Lewis has been Cleo's friend since they were five, and following the girls' transformation, also becomes friends with Rikki and Emma. He is academically gifted, thinks of himself as a scientist and has a passion for fishing. He discovers the girls' secret early on in the series and becomes determined to find the cause. He is in love with Cleo, which is later revealed to be reciprocated, and the two form a relationship late in series one. After the happenings of the first full moon of series two, Cleo breaks up with Lewis. They stay friends but remain a little embarrassed. Lewis develops a friendship with Charlotte, the new girl, who has a crush on Lewis and becomes his girlfriend after he finally gives up the thought that Cleo still cares about him. At the end of series two, Lewis suddenly dumps Charlotte because of her behavior towards the other girls, mostly Cleo. After he saves Cleo from a shark reef, they get back together.
you and cleo rock so as rikiki and emma i wish i can see you
Calisa 06:26, September 29, 2011 (UTC)
I loved Lewis and Cleo's relationship and loved his friendship with Emma and rikki's friendship inspite of their sometimes crappy treatment of him.
Charlotte was way too pushy and controlling for him and he and Cleo had a history together. Glad they ended up together.
I would add that I would have loved to have seen some of Lewis's personal life as it was but I understand that the show was about Cleo, Emma, and Rikki.
LBF522 April 23,2012
Community content is available under
CC-BY-SA
unless otherwise noted.