This article is about the first season of the H2O: Just Add Water series. To view the first season of Mako: Island of Secrets click here and to view the first season of H2O: Mermaid Adventures click here.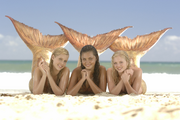 The first season shows three girls named Emma Gilbert, Cleo Sertori and Rikki Chadwick, who were regular girls. After Zane Bennett plays a prank to Cleo, they end up on the open sea with the guy's boat. The three girls, run out of fuel, and decide to peddle to an island in the distance called Mako Island. When they arrive, Emma tries to make a phone call, but she can´t get a signal, so they decide to go to higher grounds to get a signal.
When they're passing by a brook with some rocks and waterfalls, Cleo falls into a cave. Cleo is fine, and Emma and Rikki decide to go to her rescue, but then the three don't understand how to get out. The three girls, are trapped inside the cave. They cross another corridor and end up seeing a pool inside the hollow mountain. Emma sees tidal rings and jumps in the pool to see if there is a way out. When she comes back, she confirms that there is really a way out. That means Cleo has to swim, but she's afraid of the water and she can not swim. Rikki convinces Cleo and when Cleo jumps in the pool to swim, the pool begins to bubble, and they see the full moon shining through the crater of the mountain. Eventually they swim out of the cave and are found by the local nautical team.
The next day, Emma wants to take a swim into the sea, and suddenly gets a tail. She's in total panic. Cleo discovers as second that she has a tail because she is taking a bath. Cleo can't believe her eyes. Rikki is the third who discovers her tail. She's walking across the river onto a grassfield when a sprayer makes her wet. Rikki is shocked by what she's seeing after she got wet and falls onto the ground. After their discovery, the girls all go to Cleo's house to talk about what has happened to them. Cleo doesn't want to be involved with any of it, so Rikki and Emma go together to test out their new form.
After that, the three girls go to Emma's house because Cleo has discovered another thing. Cleo can control the shape and volume of water. She shows this to Emma and Rikki, and when the water that Cleo controlled, is about to fall on Emma, Emma freezes the water by accident. This is the moment that Emma finds out her power too, freeze water. However, when Rikki also tries to use her power, nothing happens.
While Rikki is talking to a friend of Cleo, Lewis, she discovers that she's able to heat up his coca-cola. Later on the day, Rikki tests her power again on the beach, and confirms her water boiling power. Lewis eventually finds out about the three girls secret when Cleo goes to a pool party, and is thrown into the water by Zane and his friends. Cleo transforms in front of Lewis' eyes. He doubts if he should help Cleo or not, but decides to help her. After Cleo is out of the water, Rikki shows her power to Cleo and Emma, by drying Cleo's tail with her powers.
This season is mostly about Rikki, Emma and Cleo learning to use their powers and dealing with everyday problems, such as pesky siblings and not getting wet in public. Lewis also helps the three girls dealing with these problems. Cleo meets an old lady called Louise Chatham, who was a mermaid in her past. She warns Cleo of the full moon, that she and her friends should not look at the full moon or see its reflection, because if they do, weird things can happen to them. Cleo tells this to Emma and Rikki.
Zane Bennett also get trapped in Louise's sinking boat, and Emma has to save him. Zane sees a half of her tail and looks everywhere near Mako Island for the "sea monster". Zane sees Emma again as a mermaid, but he didn't recognize her because she had red hair. Rikki and Zane become a couple. At the end of the season, Zane helps Dr. Denman capture the mermaids so Denman can do tests on the three mermaids. Zane finds out who the mermaids really are and he rescues them with Lewis' help. During a lunar eclipse, the girls lose their powers, only for twelve hours, but it was enough for Dr. Denman, who thinks the effect is permanent, to lose interest in them.
Trivia
It first screened on Australia's Network Ten and ran in syndication on channels in over 120 countries and has a worldwide audience of more than 250 million.
It was filmed on location at Sea World and other locations on the Gold Coast.
During pre-production, each girl that would be a mermaid during the season would get a molding done of her legs so they could make the mermaid tails for the scenes where they are in mermaid form. Before they were able to swim with the tails on, they had to go through a rigorous training process to get their bodies ready for the extra weight of the tails. They also learned breath holding exercises to help them with holding their breath underwater for long periods of time.
This season's "villain" is Miriam Kent.
Episodes
Image
Title
Original Airdate
Episode
Metamorphosis
July 7, 2006
01
1.01
Emma and Cleo meet the newcomer to the city, a girl named Rikki, the three girls, find themselves stuck on Mako Island where they are transformed into mermaids. As well as growing tails, the girls find they have powers over water.
Pool Party
July 14, 2006
02
1.02
Annoying Miss Popularity, Miriam, is having a pool party and the girls want to go. But being around water is risky, especially when Zane tosses Cleo into the pool. Lewis is the only one around to help so he finds out their secret.
Catch of the Day
July 21, 2006
03
1.03
When Emma and Rikki save a sea turtle from a fishing trawler's net, they are mistaken for sharks. A shark hunt ensues. Cleo, getting over her fear of water, saves another turtle, but she is trapped.
Party Girls
July 28, 2006
04
1.04
Determined to live a normal life, Cleo encourages Emma to have her annual sleepover. Cleo gets splashed, causing her to have to hide her tail in a sleeping bag. Cleo meets a mysterious old woman who seems to know their secret.
Something Fishy
August 4, 2006
05
1.05
Kim reads Cleo's diary and finds evidence of mermaidness. She spies on the girls and decides Miriam is the head mermaid. Miriam and Cleo enter the Queen of the Sea contest where Kim tries to prove her theory but only succeeds in upsetting Miriam.
Young Love
August 11, 2006
06
1.06
Rikki gains an admirer in Emma's younger brother Elliot when she saves him from drowning. She lets him down hard causing him to run away and hide in the fernery. The girls find him just as the watering system is about to start...
Moon Spell
August 18, 2006
07
1.07
The spell of the Full Moon turns Emma into a carefree, wild mermaid. At her father's birthday party she's the opposite to her usual, organized self. Can the other girls stop her before all is revealed?
The Denman Affair
August 25, 2006
08
1.08
A charismatic newcomer, Dr. Denman, tempts Lewis with the promise of scientific fame and fortune. Will he abandon his friends and risk their secret, all in the name of science?
Dangerous Waters
September 1, 2006
09
1.09
Rikki uses her abilities as a mermaid to earn some quick cash but when she accidentally becomes involved in a fish smuggling operation she sets out to get her revenge.
The Camera Never Lies
September 8, 2006
10
1.10
Zane tries to impress his dad by entering in the local film competition, filming his attempt to break his Dad's windsurfing record around Mako Island. He gets into trouble with sharks and unbeknownst to him, is saved by mermaid Rikki.
Sink or Swim
September 15, 2006
11
1.11
Emma trains Byron for the swimming competition. At first they get along well and even share a kiss, but too soon Emma becomes the training dragon. Byron fires Emma but when he wins the comp he tries to hug her and she recoils.
The Siren Effect
September 22, 2006
12
1.12
full moon strikes Cleo, turning her into a magical siren, attracting all the young males in the vicinity. Cleo enjoys the attention and is encouraged to sing for them, but a concert at the JuiceNet Café as the moon sets reveals her truly awful voice.
Shipwrecked
September 29, 2006
13
1.13
When the mysterious old woman's boat and home is declared unseaworthy Emma invites her over to stay. Zane gets trapped on the sinking boat and Emma tries to save him but he sees a tail...
Surprise!
October 6, 2006
14
1.14
Cleo's dad plans an embarrassing surprise party for her birthday so she escapes to Mako Island. Zane and Lewis almost spot her there on their expedition to catch the "sea monster".
The Big Chill
October 13, 2006
15
1.15
Emma is put in charge of managing the juice bar. Miriam decides to cause trouble and cuts the power to the cool room, then is unwittingly frozen by Emma who uses her powers to fix the freezer. Will the girls be able to thaw Miriam out?
Lovesick
October 20, 2006
16
1.16
A dolphin at Sea World Marine Park will only eat from Cleo's hand and when she has to sneak out to feed him, everyone thinks she has a boyfriend.
Under the Weather
October 27, 2006
17
1.17
A rainy day traps the girls inside. In an effort to "play sick" the girls create a situation where their families become part of a dire medical emergency.
Bad Moon Rising
November 3, 2006
18
1.18
Under the effects of full moon Rikki goes crazy, boiling dry everything. She runs away to Mako where she meets Zane and kisses him.
Hurricane Angela
November 10, 2006
19
1.19
Cleo and Kim are fighting like crazy and Cleo is pushed to breaking point. Then cousin Angela comes to stay and things just get worse. Cleo realizes there are more challenging things than an annoying sister.
Hook, Line and Sinker
November 17, 2006
20
1.20
Emma and Cleo help Lewis catch a huge fish in the fishing competition leading the judges to suspect he's a cheat. Meanwhile Zane and Rikki are stuck together on a balcony of a fancy hotel where after much argument, they kiss again.
Red Herring
November 24, 2006
21
1.21
Zane thinks Miss Chatham holds the key to the sea monster. Emma needs a change so dyes her hair red. While Zane gets closer to the secret, he also gets closer to Rikki. Zane dives to Miss Chatham's boat and sees a mermaid!
Fish Out of Water
December 1, 2006
22
1.22
Emma and Cleo find out Zane and Rikki are an item and force her to choose - him or them. When Zane appears to side with Harrison over the Mako Island development Rikki's decision is clear. Now it's Zane's turn to make a choice...
In Too Deep
December 8, 2006
23
1.23
The girls discover a necklace for sale identical to Miss Chatham's. Miriam causes a stir by buying it - then throwing it in the water. Rikki faces a choice whether to take the necklace and reveal her mermaidness to Zane.
Love Potion #9
December 15, 2006
24
1.24
Lewis thinks he's found a way to control the girl's mermaidness. The South Coast High School dance brings all our heroines' "boy issues" to the surface.
Dr. Danger
December 22, 2006
25
1.25
The return of Dr. Denman means trouble for the girls. Meanwhile, Emma is having family dramas of her own. With Zane's unwitting help, Denman's research at Mako Island uncovers the girls' secret!
A Twist in the Tail
December 29, 2006
26
1.26
Dr. Denman has discovered the girls' secret and trapped them on Mako Island. Their only chance to avoid being exposed is to use the lunar eclipse to give up their powers forever!
Gallery
Community content is available under
CC-BY-SA
unless otherwise noted.