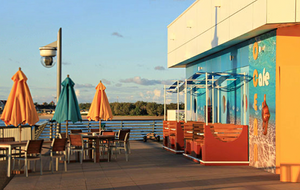 Ocean Café is a business near the beach in Gold Coast, Australia. Joe's and David's family own the Ocean Café, and he takes part in the family business. David's brother Joe looks after the supplies and transfers them from a warehouse to the café.
Evie McLaren also works at Ocean Café selling sporty beachwear. She even books scuba diving and other underwater activities there that her father organizes. Other than beachwear, underwater gear and food, the cafée also has a small counter for selling clothes.
Carly Morgan works there as a waitress in the café and clerk at the cloth counter. Sirena auditioned as a singer and she got the job and works as a singer there in the café providing music around the room to attract customers. Erik works there as a waiter in Season 2. Nixie, Lyla, Mimmi, and Ondina temporarily worked as waitresses. Cam Mitchell bought Joe's shares of the cafe in season three of Mako: Island of Secrets, but later sold it all to David.
Staff
Gallery
Main article: Ocean Café/Gallery
Community content is available under
CC-BY-SA
unless otherwise noted.