Mako: Island of Secrets (international title Mako Mermaids: An H2O Adventure) is the spin-off series of H2O: Just Add Water.
The mermaids are played by Lucy Fry, Ivy Latimer, Amy Ruffle, Isabel Durant, Allie Bertram, and Linda Ngo. Zac Blakely is played by Chai Romruen, Evie McLaren is played by Gemma Forsyth, and Erik is played by Alex Cubis.
Mako Mermaids made its debut in the US, Canada, UK and Ireland on July 26, 2013 on Netflix. Australian television station TV Ten also debuted Mako: Island of Secrets on the same date. In season 2, aired on February 13, 2015 on Netflix, the producer said that the mermaids from H2O: Just Add Water may appear as mermaids claiming that they still have their old tails from the show.
Mako: Island of Secrets series 1 was originally planned as a prequel to H2O: Just Add Water but as season two developed, the creator of the show decided it would actually be a sequel. Rikki Chadwick from "H2O: Just Add Water" appeared in the final two episodes of series three.[1]
Main Characters
Major Secondary Characters
Overview
*Note* Netflix seasons are different by having season 2 become season 2 & 3, and season 3 becoming season 4.
Season One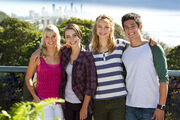 Main article: Season 1 (Mako: Island of Secrets)
Three mermaids, Sirena, Nixie, and Lyla, are assigned with the task of protecting their magical Mako Island from trespassers, only to be thwarted by the arrival of a 16 year old land-dweller Zac – who forms a special connection with the island and is granted a blue fish-like tail and amazing marine powers. Threatened by his existence, the mermaid pod are forced to move away, abandoning Sirena, Nixie, and Lyla, who in a bid for survival, must get legs, venture onto land, and take back Zac's powers or risk being outcasts forever.
Season Two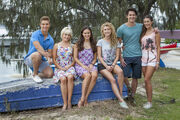 Main article: Season 2 (Mako: Island of Secrets)
Two new mermaids arrive (Allie Bertram and Isabel Durant play new mermaids Mimmi and Ondina, respectively) and are afraid that Zac is a threat to mermaid pods everywhere, but what they don't realize is that there is another merman in addition to Zac in town (Alex Cubis plays Erik) bent on seizing Mako Island for himself.
The mystery of Mako deepens, when Zac discovers the ruins of an ancient Merman Chamber. The entrance to it opens up on a full moon, just like with the Trident Chamber.
This season also sees Zac's girlfriend Evie turn into a mermaid. Cam slowly regains Zac's trust, and by the end, he decides that his desire to be a merman is not worth losing his best friend again. New pairings for season 2 include Erik/Ondina and Cam/Carly.
Season Three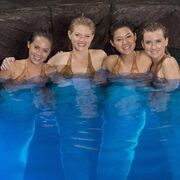 Main article: Season 3 (Mako: Island of Secrets)
Life is trouble-free on Mako Island—until Ondina meets Weilan, a mermaid from Shanghai. They immediately clash and Mimmi must act as peacemaker. But a greater threat to their peace has arrived, in the form of a fearsome Chinese water dragon that once destroyed the Eastern pod. But the dragon is not all it appears to be. On their perilous quest to defeat the dragon that leads to Zac's girlfriend, Evie losing her powers and her tail, Zac and the mermaids discover shocking secrets until a final confrontation reveals all. Cariba Heine reprises her role as H2O: Just Add Water mermaid Rikki Chadwick.
Trivia
Trailers
Gallery
References
Sources