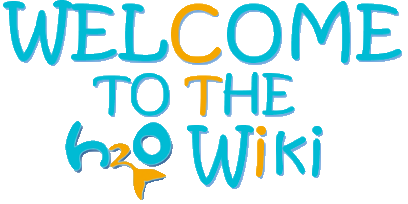 The wiki about Australian TV series H2O: Just Add Water, and it's spin-offs Mako: Island of Secrets, and H2O: Mermaid Adventures
anyone can edit
H2O: Just Add Water
Mako: Island of Secrets
H2O: Mermaid Adventures
H2O: Featured Media
H2O: Featured Series
Mako: Island of Secrets
Zac is a teenage boy who decides to camp on Mako Island, unaware that three mermaids, Lyla, Nixie and Sirena, who are guardians of the island, are watching him. That night, when the full moon rises, the boy comes into contact with the magic water of the Moon Pool. The following morning, Zac discovers that he has the ability to control and manipulate water. Later, after accidentally falling into the water, he finds that he has also become a merman with a fish-like tail. His new-found merman abilities will cause problems for the mermaids.
The three mermaids, curious about living on land and motivated to remove Zac's merman powers, venture onto the land and learn to live among humans.

READ MORE...
H2O: Contents
VIEW ALL PAGES
H2O: Blogs

M25Z
•
Did you know that in late 2021 the music soundtracks for seasons 1 and 2 of Mako: Island of Secrets were released?
All songs are sung by Amy Ruffle wh…
If others don't agree with me, I'm sorry, no hate please :D
Favorite Female Character : Bella
Favorite Male Character : Will
Favorite Couple : Wella (Wi…
See more >
Helping out on the H2O Wiki
Not sure where to start?
Adding content
Talk and more...
Check out the community portal to see what the community is working on, to give feedback or just to say hi.